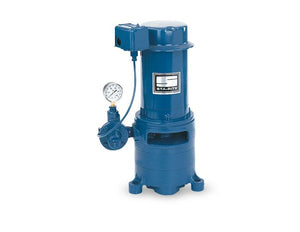 The MSG 2 HP 3-Stage deep well jet pump features over-the-well "bolt-on" capability with a special casing adapter for 2" and 3" single pipe installations, and adapter flanges for adapting all double-pipe installations.
Key Features
Quality Construction - Precision-machined, close-grained cast iron pump body and base are specially treated to resist corrosion.
Automatic Pressure Regulator - Faster-acting and quieter, the design eliminates "hunting" for correct drive pressure. New improved stem and guide are precisely molded to assure efficient, trouble-free performance on all deep wells.
Motor Windings - Superior insulation materials protect against excessive moisture and contaminants to ensure prolonged motor life.
Dustproof Cover - All electrical components are protected from dirt, dust, and insects by a dustproof canopy. Ventilating air cannot contaminate vital switching components. This eliminates the most common cause of motor failure.
Resources